(NDT) – Non Destructive Testing
SafeRad™ South East Asia has been operating in Australia since 2009 to deliver a full range of (NDT) Non Destructive Testing services.
Our Head Office is based in Kwinana Western Australia.
SafeRad™ are a NATA Accredited company and offer a full range of NATA Accredited NDT services see NATA certs and scope of accreditation.
As Well As Offering A Full Range Of NDT Services:
SafeRad™ are the only company in the world with a purpose built Multi Functional Radiography system that offers both Close Proximity and Conventional Radiography (One System All Methods).
SafeRad™ are the world leaders in Close Proximity Radiography where no one has to be evacuated for what is normally a hazardous operation.
Conventional Radiography methods emit radiation over a wide area and this requires evacuation of all personnel.
Evacuations for Radiography have a negative impact on work schedules and are extremely disruptive. SafeRad™ Radiography is the ultimate solution to the conflict between evacuations for Radiography and the requirement to carry out simultaneous operations (SIMOPS) to meet schedules.
Benefits include but are not limited to:
Increased safety
No need for staff to be evacuated during operations
No impact on work schedules or productivity
Assists in expediting work programmes
Massive cost savings to client
SAFER, an acronym for Small Area For Exposure Radiography, is a method of work pioneered by SafeRad™ that means no disruption to any work programs by compromising safety, quality or production.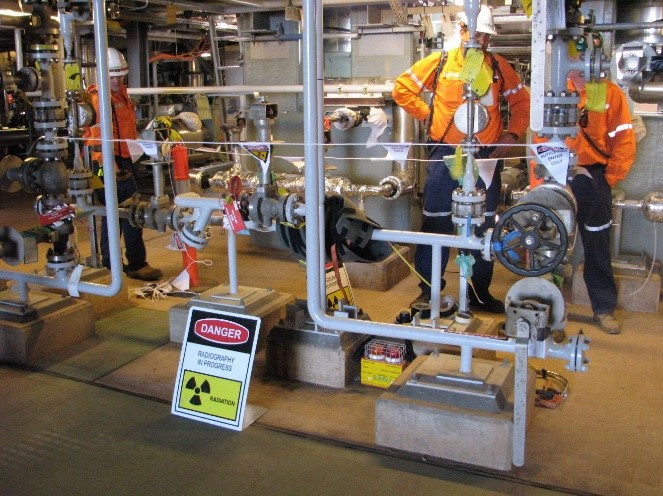 Personnel standing in close proximity of the radiation system whilst radiography is taking place
"SafeRad™ has been in operation since 1996 in the UK and now we have the opportunity to apply our unique technology here in Australia. SafeRad™ technology has the potential to save hundreds of thousands of man-hours for constructive work at no extra cost as we have done for many clients around the world."
SafeRad™ Technicians have completed many major inspection projects across Australia where radiography was carried out with barriers at approximately 1.5 metres from the exposed source and all personnel remained at our work stations in complete safety.
On numerous Australian and worldwide projects, clients have been able to avoid losing millions of man-hours by employing SafeRad™ to carry out the radiography work.
SafeRad™ radiography service is used in the oil and gas, power generation, pharmaceutical, mining, and many other industries.
SafeRad™ have helped many clients around the world to complete our construction programmes without backlogs of work building up and consequent over run of schedules.
Many clients have said "Thanks to SafeRad™ we were able to successfully complete our project ahead of time without any of the hold ups caused by conventional radiography methods, making significant cost savings to our projects".
SafeRad™ has a long portfolio of satisfied international clients that regularly use our unique services because of our "can do" friendly approach and proven, predictable, safe and reliable practices. SafeRad™ have established themselves as a company that does not compromise on safety, quality or productivity because of the company's policy of continual development programme aiming for excellence.
SafeRad™ manufactures every part of the specialised SafeRad™ equipment and our unique radiation shielding called GammaBlok™.
This allows them to quickly respond to site or client requirements or even to design and manufacture bespoke equipment for specialist applications.
GammaBlok™ is a high density plastic used for radiation shielding in a variety of applications such as the diagnosing and treatment of conditions where radioactive dyes are used in hospitals for shielding clinical staff and also has a number of industrial applications in situations where protection of personnel from radiation is paramount. For example, protection from radiation used in some devices – 'nucleonics' – for pressure vessel level measurements.
Malcolm Wass, Managing Director of SafeRad™, is the inventor of the SafeRad™ System and their unique GammaBlok™ radiation shielding. He has received numerous accolades including a number of international awards for innovative and new technology development.
GammaBlok™ is a high density plastic used for radiation shielding in a variety of applications. Hospitals use GammaBlok™ when handling patients during diagnosis and treatment of conditions in which radioactive dyes are used, this protects the clinicians when handling the patients.